Mass Schedule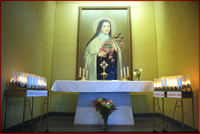 As of Monday, September 21, we will return to our regular weekday mass schedule in the church. Registration for weekday Masses and Adoration will take place as you enter the church.

The weekday schedule is as follows:
Monday & Wednesday evening, 7:00 p.m
(Our Mother of Perpetual Help Devotions included in Wednesday Mass)

Tuesday, Thursday & Friday morning, 8:00 a.m.
(morning Masses will continue to be available online)

Adoration, Friday, following 8:00 a.m. Mass

Weekend Mass
Saturday at 5 p.m.
Sunday at 11:00 a.m.
To register for one of our weekend masses, please call the parish office 579-0065 during regular operating hours Monday to Thursday, 9:00 a.m.-4:00 a.m.